Amazon unleashes the hd Kindle Fire
Packing a stunning 1280x800 full hd screen, the brand new high definition
Kindle Fire HD
seems like a game winner for sure. And the price tag starting at only 200$ is affordable on any budget.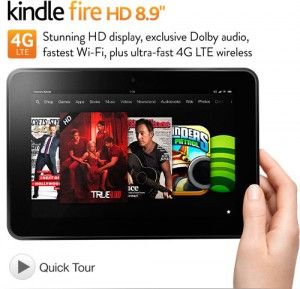 Kindle Fire HD




We just assume this is Amazon's answer to the now popular ipad 2 and 3.  Ironically, it beats the ipad in every possible way, unlike the whole kindle vs ipad 1 thing, this is proven by facts.

Remember, the screen is fully HD! This means , unlike the ipad 3, you will be getting near 3-D images popping at you.

The Kindle also comes with a 1.3 GHz processor, beating the ipad 3 once again.

According to speed tests , it also has faster  wifi than any other tablet out there.


Wifi tablet speed test


And remember, the kindle gives you access to millions of tv shows, ebooks and movies, free to stream, or at least some are. Again, this is the solution to apple's itunes.

So, is it worth a try? At 200$, you bet it is. The ultimate configuration ends at 600, so again, its not like the ipad that starts at 600$