Making your car's headlights shine like new
We are going to go off on a tangent here and attempt to simply describe some experience with a product that worked for us. We saw no other reviews on the product other than directly on the seller's website, so why not be the first to make a review right?
Naturally, after 5 or so years, your prized car's front headlights begin to get all old and ugly. Worst of all, they don't function as safely or comfortably as they should.
This is due to oxidation that occurs on the glass, nothing can really prevent this from happening to begin with. You may even be very disappointed to know that on average, a mechanic will charge you between 500 and 2000$ (US) to fix this issue.
So, is there a cheaper alternative? Well, we at  
The Order Of The Iron Phoenix 
believed that if the mechanics can do it, so can anyone else.
We began with some form of de-oxidizing polymer, this failed. And we cant imagine why (lol). Technically the chemical  makeup of your headlights changes. Much like you cant get rid of rust off iron without physically removing it, you cant make your headlights shiny unless you sand them.
So we can tell you, de-oxidizing polymer "miracle liquids" are a scam! Don't go wasting your money on this garbage, it does not work.
Then we went to amazon , and we found the
3M 39008 Headlight Lens Restoration System
. Again, we tend to do a ton of testing just to see what we could possibly unveil. And it only cost 12$.
So let us tell you what you do.
First you take a liquid that comes with the kit, and apply it to your headlight.
Then, you take the special "wet sandpaper" they give you with the package, and you run it across your headlight. Then you can run a polishing tip.
Finally, you wash it with water, and dry it up with a provided towel.
Finally, you take a cloth with polishing liquid, and polish the headlight.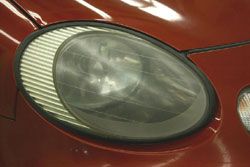 Before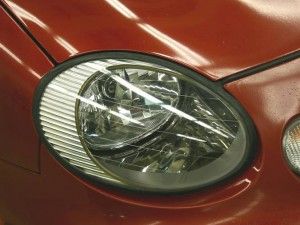 After




You just did what could have possibly cost you 2000$ for 12$ , and in less than 15 minutes. But don't simply take our word for it, click the image below and check the product out yourself. You might find yourself pleasantly surprised :)






/p Before


p