NYC shooting leaves nine injured , two dead
So, a 58 year old women's clothing designer (
last name Johnson
) came into his former area of employment, and emptied 9 rounds into one of his former coworkers. Johnson killed the man.
Upon exiting the building , three police officers began volleying shots at Johnson, whom did not fire back.
Well, they killed him ,but, they took seven commoners with him. All of these people are expected to survive, but the thought of them accidentally injuring 7 is a scary one.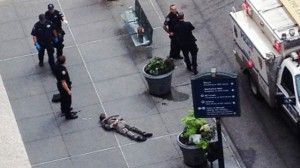 Empire State Building Shooter