Petar Stoychev Became Champion In The Icy Waters Of Antarctica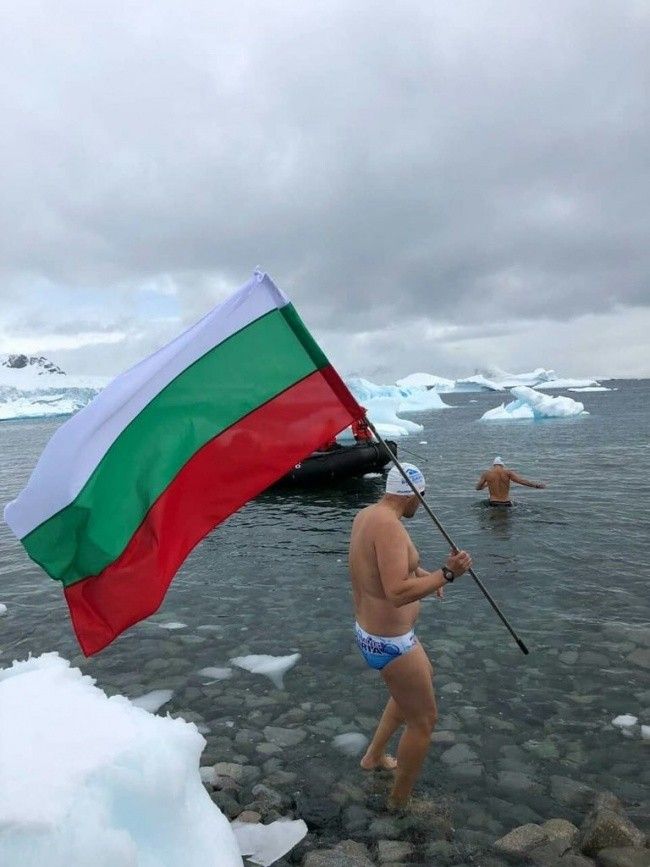 Petar Stoychev recorded another great success in his career!
After winning the first 1000-meter (3300 feet) Antarctic swimming marathon on Sunday morning, near the island of Trinity, in the Bay of Michelon Harbor, the Bulgarian finished one minute in advance of the competition for a second time. He even managed to swim the last meter in a butterfly position-- BTA reported.
15 swimmers from 9 different countries took part in the incredibly laborious, and unforgiving race. Typical for this end of the world, as soon as the swimmers descended from the ship's stern, snow and rain began to fall. The air temperature averaged around minus 2 degree Celsius (28 Fahrenheit). The temperature of the water was minus 0.8 degrees Celsius (30 Fahrenheit).
After the race Stoychev said:
"I am very happy and happy with myself, there has been a slight strain in the last few days because of the constant postponement of the start, but it is all in history and glory. The Bulgarian is the champion of Antarctica in the first race! I did not think of anything other than to win; I did not want to risk and fix things at the last moment. I said that I had to be strong and fast from the first moment, and finally, I performed a little show for my competitors when I saw that I was ahead with a large differential, I decided, in the last meters, to finish them in a butterfly stroke for joy!
My body temperature was 37.3 degrees (Celsius). I stepped on the boat immediately ,measured it, and the thermometer showed 30.8. The pulse before the start was 92 beats per minute, then I had forgotten to look at the euphoria. But, I quickly got back and now I feel wonderful It's one of my greatest career-winning victories. Not only did I swim in Antarctica, but now I'm the first winner of a swim marathon on the world's seventh continent!
There were about 100 people on the ship who congratulated me on the success and now we will have a glass of wine. I also thank my team for their support and cooperation throughout the expedition. However, there is a difficult journey to return to the mainland. We head to Ushuaia (Argentina) in a few hours and the captain warns us that there is a lot of excitement in the Drake area, and the weather is very bad. Live and healthy, after three days we have to be on Argentine land and finish everything, "
Stoichev swam the distance in 11:08:38 minutes/seconds/milliseconds. After Stoychev, finished the fastest woman in ice water, Victoria Mori (Argentina) - 12:09:31 minutes/seconds/milliseconds; and another 30 seconds behind Mori was Diego Lopez from Spain.
A true inspiration of the ages!