Many people killed in elementary school shooting
We have this coming in live, from medias all over the states. A gunman walked into Sandy Hook Elementary School, located in Newtown, Connecticut, and opened fire. Children, women , men , everyone shot in a bloody massacre that seems to echo nothing more than appalling sickness from us.
Children have been killed, this is a fact, staff have also been killed. Coroners have confirmed many people are dead, many are also critically injured. Amongst the dead is the gunman, for whatever reason, this comes one day after the
Oregon Mall shooting
.
We are worried that there is a pattern starting, and that these mass killers are becoming too frequent in the States. We will keep you updated as this story moves further.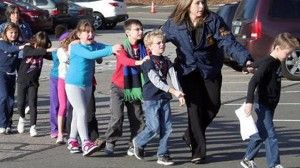 Children escorted from massacre

Stay Informed
When you subscribe to the blog, we will send you an e-mail when there are new updates on the site so you wouldn't miss them.