Warning by GM to withdraw certian 2006 and 2007 models because they catch fire
Do you by any chance drive a 2006-2007 Chevrolet Trailblazer, 2006/7 GMC Envoy, 2006/7 Buick Ranier, 2006/7 SAAB 9-7x, or a 2006/7 Isuzu Ascender?
Well, GM recently recalled 250,000 of them, yes quite a hefty sum. You know why? They
spontaneously combust
! This means that you might be driving down the good old highway, and bam!, your car blows up.
The reason behind this anomaly appears to be faulty wiring where excessive sparking by loose spark plugs mix with gas outside the cylinders, causing a massive explosion, and certain fatalities.
So if you have any of the listed models, make sure to see a professional immediately to see if driving it can be a safety hazard.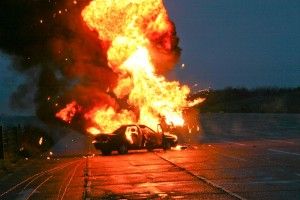 Please, don't die





Stay Informed
When you subscribe to the blog, we will send you an e-mail when there are new updates on the site so you wouldn't miss them.