Chinese ferries crash on national Chinese day, killing 39
Another day, another accident. We are finally getting word that on October 2, 2012, two ferries, carrying ecstatic passengers, on the national day of Chinese unification crashed into each other. Apparently, something went awry with the amount of fireworks , temporarily blinding people steering the ferries, causing them to collide. The people on board described the crash as " a sudden rocking motion, almost as if we hit land". Unfortunately, they were far from land.
Both ferries began sinking, about 130 people were extracted (thankfully) , but 39 have been confirmed dead, and a ton more are feared missing. Amidst the chaos, we wish them luck.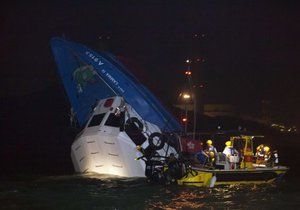 Chinese Ferry Collision



Stay Informed
When you subscribe to the blog, we will send you an e-mail when there are new updates on the site so you wouldn't miss them.