Man arrested naked in driveway with just a swimcap on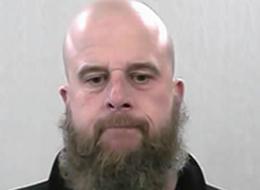 mark mertz


A 44 year old schoolteacher living in Walpole, MA was arrested for allegedly going outside of his house in nothing but a swim-cap and a pair of swim goggles. Apparently, he really wanted to be "one with nature" and there was no better way but t do it when it was 11 degrees Fahrenheit outside!

On top of that, he was caught by a another guy (who apparently was not gay). This "distressed guy" decided to be a total wuss and called the cops. Soon, the cops had this fat bearded guy in chains.

As of now , Marc Mertz, is being terminated from his position as a teacher. (jeez idiot couldn't you just go to the back-yard?)

His many classmates only had good things to say about Mr. Mertz, as did their parents. However , a criminal investigation showed that he was a "repeat offender" -- uh oh.
Stay Informed
When you subscribe to the blog, we will send you an e-mail when there are new updates on the site so you wouldn't miss them.