Man kills wife and posts pictures of body on facebook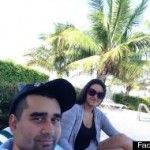 medena kills his wife


In a shocking turn of events, a Miami man killed his wife, and posted pictures of the body on facebook. Derek Medina wrote the following facebook status:

Im going to prison or death sentence for killing my wife love you guys miss you guys takecare Facebook people you will see me in the news" my wife was punching me and I am not going to stand anymore with the abuse so I did what I did I hope u understand me "

Medina claimed that his wife was abusing him , threatening to kill him , and lunging at him with a knife. He was quoted to have said it was self defense and that the abuse he suffered was too much to bear Madina will probably get the death sentence.
Stay Informed
When you subscribe to the blog, we will send you an e-mail when there are new updates on the site so you wouldn't miss them.