Six sigma organizational initiative
What the fuck is the Six sigma organizational initiative? The six sigma approach is a type of "company/organizational" approach towards cutting costs through quality. The theory was developed in 1981 by Motorola co , and later adopted by General Electric (popularized circa 1994).
The main focus of this perspective on "cutting costs" and "increasing profits" is quality. As oppose to standard "maximum output at fair quality and cutting back on quality to save money" , six sigma focuses on cutting costs of damaged batches , or defects through identifying , analyzing and correcting whatever may be causing the initial defects in quality (be it a service or a tangible product).
Six sigma focuses on doing one process in such a way that there is no way in fuck someone can screw it up. For example , if items at a dairy farm are bing turned into another conveyor belt by humans , rather than machines , a six sigma approach to "maintaining quality" would be to keep the same people doing that same job for  a very long time. And if there was one jackoff that went out of his way to put caterpillers in the milk, he would be replaced by someone instantly. Although if it works, why the hell would you change it right?
Six sigma is designed to be a predictable approach to maintaining quality , and if you don't have as many defective products or services being rendered , then you wont have to refund or reimburse for damages done financially , essentially cutting costs and letting your company's SEO bathe in a tub of dollar bills. Isn't that nice?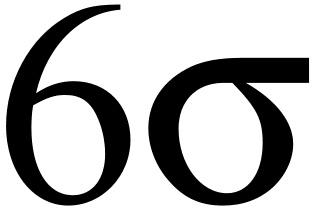 six sigma

Stay Informed
When you subscribe to the blog, we will send you an e-mail when there are new updates on the site so you wouldn't miss them.