Browser popularity change from 2012 to 2013
Internet browsers have come a long , long way since the creation of the first netscape communicator in 1989. In today's world there is actually choice , generally ranging from simplicity, to performance, or to personal preference.
In the years 2006 to 2008, firefox (a mozilla corporation project) was really uncontested in performance. Yes, those were the days that it peaked in the light, simply because it's only competition was internet explorer (ie).
Internet explorer actually dominated user levels since 2000, mainly because nobody needed anything with more function, and it came pre-installed with every windows os from 2000-2013. Apple' safari on the other hand suffered severely , probably due to the lack of popularity of this browser and it's inability to run on windows until recently.
Netscape communicator had it's day in the light before 2001 , being used by apple os and windows os systems alike. Today nobody knows anything about netscape, but it actually evolved into my personal favorite browser , opera (-_-
be different
-_-)7.
In 2008, google introduced it's own browser:google chrome. Google chrome tries to outdo every other browser, and due to google search engine's popularity, this browser has expanded beyond belief in recent years (
not too shocking
).
So now I will show you the 2012 user statistics from this website for the whole year of 2012 (we started late in the year, we know).
Browser                   Hits            Percent
Internet Explorer 1,034,095 34.2 %
Mozilla Firefox       776,815     25.7 %
Google Chrome      470,509    15.5 %
Netscape Opera     324,322      10.7 %
Apple Safari            163,143       5.3 %
Other                            252.996    8.1% (kmeleon , phoenix android pda browser etc)
In 2012, it appears that internet explorer was uncontested , which again is because it comes pre-installed on all windows os' and has all the functionality anyone would need.
But now watch what happens in the first couple of months of 2013, the stats speak for themselves.
Browser                    Hits            Percent
Google Chrome       221,241       22.3 %
Internet Explorer  213,803       21.6 %
Mozilla Firefox       191,957       19.4 %
Netscape Opera     159,185         16 %
Apple Safari            91,676          9.2 %
Others                      
111.499        11.5%
So what appears to have happened? Well, it appears to me that chrome will supersede the decade of internet explorer domination. Even though internet explorer 10 recently came out, I see a chrome run world on approach.
Is Internet Explorer the next netscape? Will it become useless in the future? Will opera defeat firefox? If anything, these stats show a closing in the gaps between browsers! This is exciting news to all of us! :)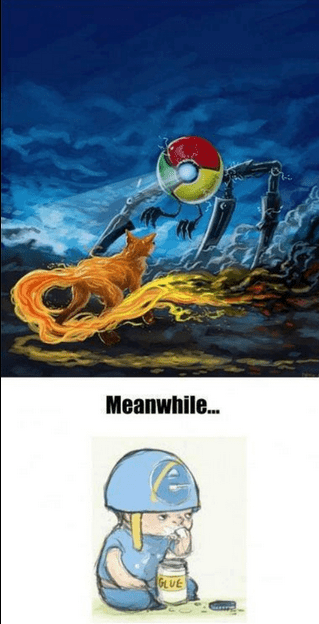 Firefox vs Chrome (not so accurate eh?)



Stay Informed
When you subscribe to the blog, we will send you an e-mail when there are new updates on the site so you wouldn't miss them.