Fight over ketchup leads to police call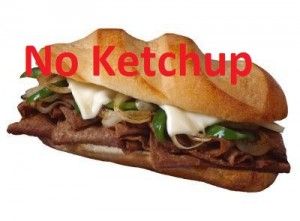 Ketchup


In a lonely Subway franchise located within a Walmart superstore in Orlando,Florida, there lay a feud today. A man named  Luis Martinez approached the clerk/cashier/cook named Lawrence Ordone. Martinez ordered a Philly Cheese Steak sandwich with ketchup. Ordone responded by explaining that they "didn't have any moar ketchap" , at which point Martinez asked "why?". Ordone had enough, he threw a chair and lunged at Martinez , telling him to "fight like a man". Instead, Martinez called the police and Ordone was fired from subway. Ordone remains convinced that he was correct , as does Martinez. This is truly bizarre.
Stay Informed
When you subscribe to the blog, we will send you an e-mail when there are new updates on the site so you wouldn't miss them.