How Can You Get Thousands Of Likes On Facebook, Thousands Of Followers On Twitter And Hundreds Of Thousands Of Followers On Digg And Stumbleupon?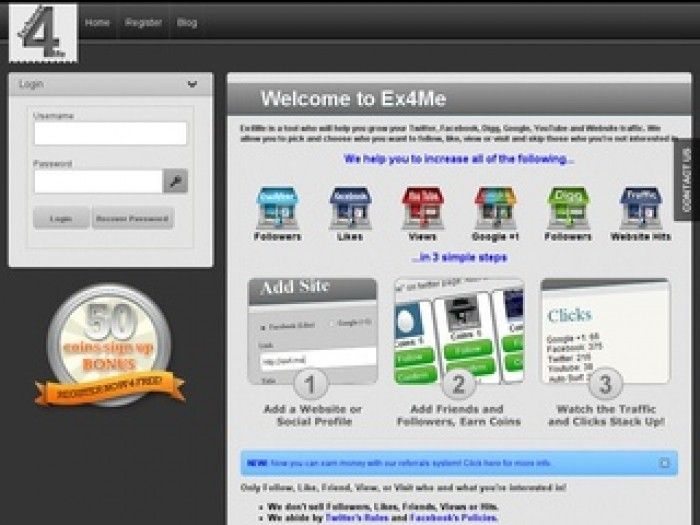 If you are reading this, you probably have a genuine interest in increasing your social media posy. Well quite frankly, there is a way to do it! And guess what? You will be buying every like and follower! Doesn't that sound promising? Well there is a website called ex4.me . The way it operates is quite simple: there is a point system. Everyone that likes your page or follows you earns one point. You lose one point for every person that follows or like you. You can regain them by either buying them (the easy way) or by liking and following them (the more people you follow on twitter, the better). So in the end, it becomes a huge chain of like and follow exchanges and you end up looking like you have a solid fanbase :D Not to mention the price of your blog or website increases with every hundred people that talk about it (I'm talking thousands here). So If you're interested in minimum effort, maximum output, you can start now and get 200 points free. If this turns out to be a scam, I will delete this post immediately. Kindest regards.
This site is dead as of February 2013 , sorry :/
Stay Informed
When you subscribe to the blog, we will send you an e-mail when there are new updates on the site so you wouldn't miss them.