If this day was our last day on earth
We just made the following status on our facebook page ,hopefully you are one of our 27 followers :) :
"
We shall be with you dear followers, and although the world will not end, take some time to ask yourself "if today is my last, am I proud of everything I have done", "Do I live a life of regrets?". And at the dawn of December 22nd, change everything you do not like about yourself. Be who you want to be, overcome anything you might later regret, for this day may be your last :)
"
And since we only have 27 followers, we want anyone else that actually finds this post to hear our word of advice, and to simply come to terms with their existence. Life is very fragile you see, and if you think about it, astronomical comets and gravitational shifts are beyond our control.
We may feel at the moment that we are safe and sound, but everything that is as is right now can change in a moment's notice. Not that this is relevant, but did the "dinosaurs" see the comet coming?
The answer to the question above is No, and if they knew, they would still be gone, even if they had 100 years to prepare. The sad truth is in 100 years of preparation, we wouldn't be able to save one man. It is sad to imagine, that with all of our technology, one little thing could ruin years of progress.
Or look at it this way, tomorrow you could get hit by falling meteor (but only you dear reader) -we are threatening you-. And if one rock, which somehow falls on you (as is the nature with accidents, disease and so on) , you could do nothing to stop it. All you could do is be like "oh gahd plz stahp!" Your cries will fall on deaf ears, for nothing could save you then.
What we are trying to say is your life is fragile, and if you are not out enjoying yourself, you are living a miserable existence.
Cheers everyone! And happy Apocalypse! The Order OF The Iron Phoenix Team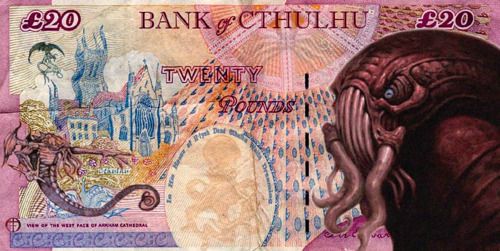 The future of money is here!- Strait from the first bank of R'lyeh it's Cthulhu Money! Yay!

Stay Informed
When you subscribe to the blog, we will send you an e-mail when there are new updates on the site so you wouldn't miss them.