Man loses 2600$ at carnival
The 30 year old New Hampshire man never saw it coming, a simple ball toss game cost him his savings-2600$ to be exact-. And what did he get with these 2600$? A stuffed banana with dreadlocks!
The man, identified as 30 year old Henry Gribbohm , had come to the New Hampshire carnival with high hopes to win a brand new "xbox360 kinect " complect through a ball toss game. Gribbohm tossed and tossed, but luck was not on his side, and the ball kept coming back out. Rather than just walk to the average "Best Buy", Henry kept going. Soon, he spent 10x what the prize was worth, although he did manage to win a banana with dreadlocks.
Henry is now considering a civil law suit, claiming the game was "rigged".At least he has that banana to keep him company for the rest of his life.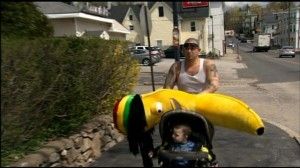 guy spends life savings on stuffed banana



Stay Informed
When you subscribe to the blog, we will send you an e-mail when there are new updates on the site so you wouldn't miss them.