Moses Sithole
You think of murderer, and you probably think of jack the ripper or some perverted man that ended up making children into pies.

But you probably never once hear the name Moses Sithole, and perhaps that is a good thing.

Back in the day, South Africa was run by a British held apartheid government. This government made South Africa the richest country in all of africa, but accordingly the class system was racist, favoring white minorities over the 99% African indigenous.

Among the indigenous, there lived a man (last name Sithole) who was an abusive father, he even kicked his infant son, Moses, like a ball when he was only one year old.

Sithole SR decided to walk out on the family, and he was never heard from again.

His son, Moses Sithole, grew up in the slums of South Africa with his brothers. His mother would later abandon him, calling him an accident before she left.

And thus the most ferocious killer that ever walked the earth was born, his name: Moses Sithole JR.

Moses grew up mining gold, for he could do no skilled labor, needed to eat, and lacked funds for education.

At the age of 30, Moses had strangled 48 people to death. Moses Sithole would dress up in a business jacket, make a "come hither" motion to people with his pointer finger, get them in a dark, secluded area, then rape them and subsequently strangle them (kill).

His victims were far and wide , passing geological gaps, with no regard of race or gender. Sithole was finally found in late 1995, he admitted to all the murders, rapes, and even a bit of cannibalism on the side, he received 958 years with no possibility of parole.

And kids, this is why you never heard of Moses Sithole.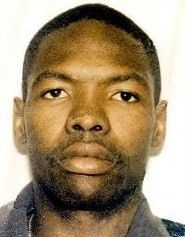 Moses Sithole
Stay Informed
When you subscribe to the blog, we will send you an e-mail when there are new updates on the site so you wouldn't miss them.