Egyptians revolt again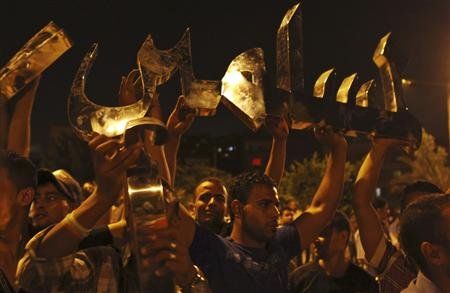 Egyptians protesting in 2013 against president


When those Egyptians began setting fire to flags and killing each other on the streets to kill their current regime, we sort of predicted that a Islamic extremist would take the spot. What we never told you is that the "democratically elected" leader was actually using similar tactics to the previous leader to gain power :intimidation.

Yes, people were threatened, polls were burned , people were killed etc. The usual chain of events ended when a new leader , and member of the dangerous Muslim brotherhood, was elected. All seemed happy as people were oppressed , and Egypt soon faded from the news.

Now , millions of people are taking to the streets (I guess they think if you can do it once, why not do it again) , again armed with weapons and fire bombs, ready to topple the current "democratically elected" leader's regime. Can you imagine, one million people going around , looting shops, killing people, and even setting the president's headquarters (equivalent to the whitehouse) on fire?

Yeah, well, we spot yet another confrontation coming about, perhaps another civil war. We can only assume it is because the Egyptian people don't want to live in fear, we will keep a careful eye on this situation and see what happens further. We predict the intensity of the situation might put Egypt back into the eyes of the general public very soon.

We do want to mention though that all the rebels are demanding Muhammed Morsi's immediate surrender and step down. Threats are being made against Morsi and his entire family.
Stay Informed
When you subscribe to the blog, we will send you an e-mail when there are new updates on the site so you wouldn't miss them.