two million dollars of wii consoles stolen
Men , armed , wearing ski masks have successfully plundered a stash of "wii-u" consoles (7000 confirmed in total) from a warehouse in Seattle. The robbers had literally broken in with "spy-like" tactics, averting systems, liquidating any security system with blowtorches and liquid nitrogen.
After watching what remained of the security tapes, all we know is these pro bank robbers made it away with two million dollars worth of wii consoles. We dont know how long they can avert police, but this was done like true pros. It is a sad day for us Nintendo lovers.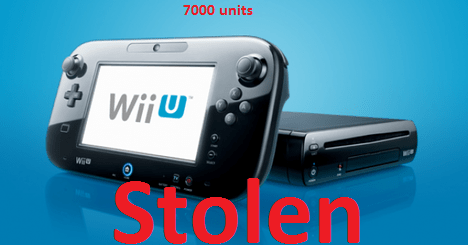 Stolen wii u

Stay Informed
When you subscribe to the blog, we will send you an e-mail when there are new updates on the site so you wouldn't miss them.